Opioids are medications prescribed by doctors to treat persistent or severe pain. They can either be sourced synthetically or derived naturally from opium. Examples of opioids are morphine, codeine and tramadol.
How do Opioid's work?
Opioids attach to proteins called opioid receptors on nerve cells in the brain and other parts of the body. When this happens, the opioids block pain messages sent from the body through the spinal cord to the brain. While they can effectively relieve pain, opioids carry some risks and can be addictive due to the fact that opioids release endorphins creating a temporary sense of pleasure and then once it wears off, they may want that feeling back.
Why are Opioids prescribed?
Opioids are primarily prescribed for pain relief, for example, patients may have chronic pain and need treatment. It is critical that they are pain-free as much as possible.
Who is using opioids?
Opioids are prescribed routinely in healthcare across the globe. Currently, 77% of the available morphine is prescribed in just 7 countries, which includes the USA and the UK.
There is an underlying pattern of increasing deaths in which an opioid pain medicine (OPM), especially tramadol, is mentioned as present on the death certificate. In the latest data set, deaths related to tramadol have risen to 240 per annum.
Here are some statistics of what has occurred in the last year in the UK alone: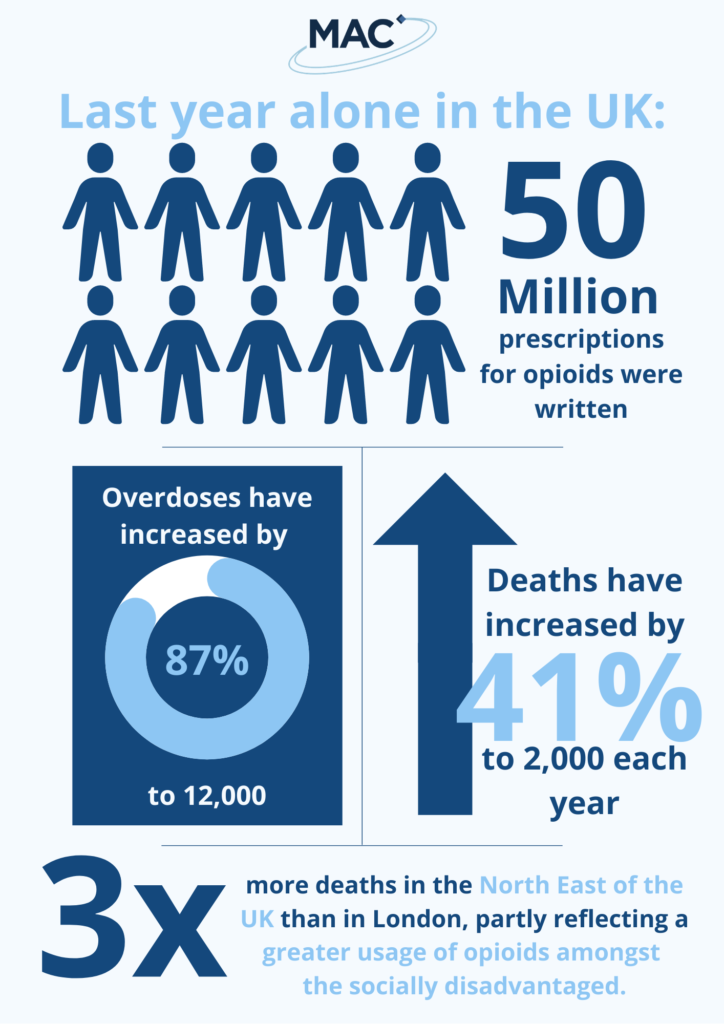 For any drug to become licensed it must first go through stringent testing processes known as clinical research.
Have you used opioids recreationally before? Or found yourself continuing to take opioids after the pain stopped because you like how they made you feel?
MAC Clinical Research in Greater Manchester is currently looking for relatively healthy people who have used opioids for pleasure, to take part in a clinical trial.
If you are aged between 21-55 and would like more information, please register your interest, by visiting: https://researchforyou.co.uk/ibogaine-in-recreational-opioid-users/