The National Institute for Health Research published some promising figures for clinical trial participation statistics for the last year. Find out more about our clinical trials here.
The institute reported that 1.3 million people took part in clinical trials across England, this was double the number that took part last year.
As a clinical research organisation, we're so proud to have contributed to these figures and made a positive difference to advancing future medical treatments and potentially improving the quality of life for people living with a range of conditions.
Despite non-COVID-19 studies taking a break during the pandemic to ensure patient safety, these studies were able to restart as cases declined. As of 31 March 2021, the NIHR CRN had restarted 81% of previously paused commercial contract studies (against a target 80%).
The organisation also reported that 93% of research participants said they felt valued by researchers and 94% would consider taking part in research again.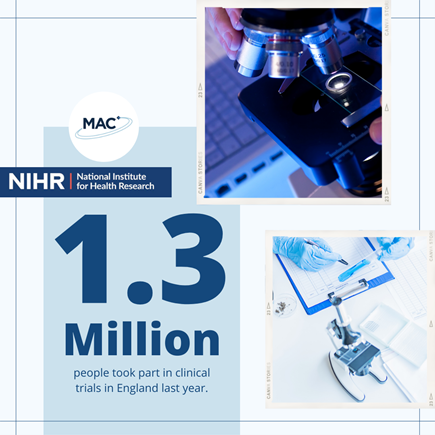 Clinical trials are integral to improving healthcare; there would be no new or improved medications if it weren't for clinical research. Simple pain relief such as paracetamol and aspirin have all gone through the clinical trial process and it is this same process that is responsible for identifying tomorrow's treatments.
By taking part in a clinical trial, you can take an enormous sense of pride in the knowledge that you are helping to identify treatments that will benefit the lives of our future generations.
While we reflect on these great statistics, we'd like to thank everyone who has taken part and registered their interest in our clinical trials this year – without you, we wouldn't be able to do what we do!
If you want to get involved in clinical research, you can find information about our current trials here.