Last week, a new study by ERJ Open Research made headlines, as it identified that those with low levels of vitamin K are more likely to experience poor lung function, connecting conditions and symptoms such as asthma, chronic cough, wheezing, and chronic obstructive pulmonary disease (COPD) with vitamin K deficiency1.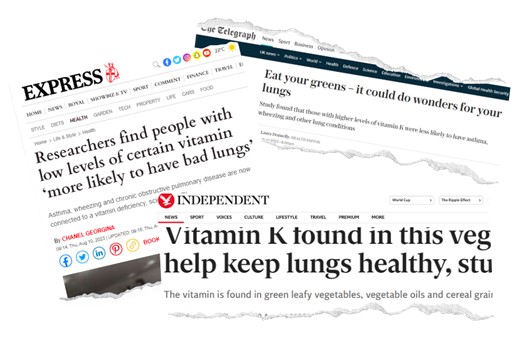 Searches for the term 'Vitamin K' has increased by 20% over the last week following this news; Medical Director and lead on the COPD clinical trial here at MAC Clinical Research, Dr Sandy Connell, has commented on the new research findings.
Dr Connell said: "According to Asthma & Lung UK, only two percent of public funding is spent on research into lung conditions2, and research such as that conducted by ERJ Open Research proves there's so much left to uncover to help prevent and ease the conditions of respiratory diseases."
More research is needed to help diagnose, treat, and manage lung conditions, to hopefully lessen the number of people struggling with symptoms in their everyday life, as well as reduce the rate of those developing respiratory illnesses.
It has been well documented that living a healthy lifestyle and eating well will help reduce the effects of lung disease, and this new study unveils a relatively untapped discovery that needs further investigation to understand the validity and effects of Vitamin K on conditions such as COPD. The results of the research indicate that people with low levels of Vitamin K in their blood are more likely to have poor lung function and suffer from asthma, COPD, and chronic cough. The NHS recommends that adults need approximately 1 microgram a day of Vitamin K for each kilogram of their body weight3, and all the Vitamin K that adults need should be achievable by eating a varied and balanced diet. Vitamin K-rich foods include kale, broccoli, brussels sprouts, cabbage, cucumber, kiwifruit, okra, green beans, and lettuce.
"The main cause of COPD is tobacco smoke, and those who do smoke or have smoked in the past are at a higher risk of developing COPD. Other factors include exposure to air pollution, genetics, and respiratory infections.
"The NHS has reported there are 1.2 million people affected by COPD, and that COPD exacerbations account for 1 in 8 hospital admissions (12.5%), making them the second most common cause of emergency hospital admissions in the UK4.
"COPD causes swelling and damage to the lungs, resulting in symptoms including a persistent cough, shortness of breath, wheezing, and sputum production. According to the World Health Organization (WHO), COPD will become the third leading cause of death worldwide by 20305, and this highlights the need for more research into prevention and treatment, to aid the advancement of healthcare for people living with lung conditions such as this.
We are dedicated to helping to improve the lives of people with lung conditions and improving lung health. To this avail, MAC's latest COPD clinical trial is testing an investigational medication that is being developed as an additional maintenance treatment for the prevention of exacerbations (flare-ups) in patients with COPD. To find out more about this research and whether you or a loved one might be eligible, please visit our COPD clinical trial page via researchforyou.co.uk.
1 ERJ Open Research – The association of vitamin K status with lung function and disease in a general population
2 Asthma & Lung UK – Lung Conditions
4 NHS Transformation Directorate