Alzheimer's and Mild Cognitive Impairment
Clinics: West Yorkshire, Lancashire, South Staffordshire, South Yorkshire, Merseyside, Greater Manchester and Teesside
Therapy Area: Alzheimer's
Gender and Age: Males & Females aged 60 – 85
Reimbursement: Transport will be provided, or reasonable travel expenses reimbursed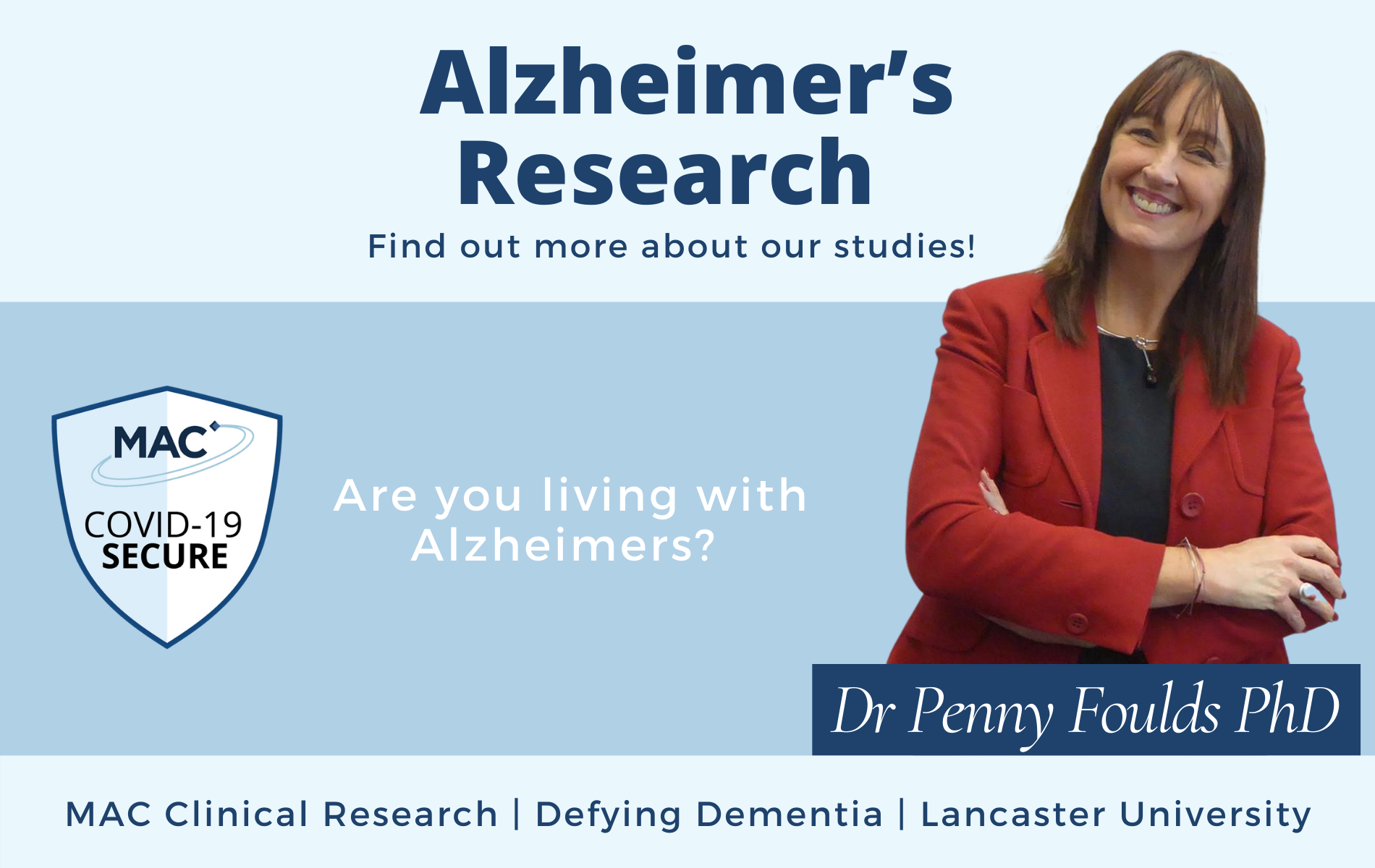 A clinical trial to test an investigational medication for Mild Cognitive Impairment and Alzheimer's Disease.
The study will run at our clinics in West Yorkshire (Leeds), Lancashire (Blackpool), South Staffordshire (Cannock), South Yorkshire (Tankersley), Merseyside (Liverpool), Greater Manchester (Manchester) and Teesside (Stockton) and will require up to 8 visits over a maximum of 54 weeks.
During the study, participants will receive ANAVEX2-73 or placebo every day in the morning with a light meal.
Participants do not have to stop any current medication for Alzheimer's disease during the entire study period.
Information from this study may help doctors learn more about ANAVEX2-73 and the treatment of Alzheimer's disease. This information may benefit other participants with Alzheimer's disease or a similar condition in the future.
A full description of the study will be given before you decide to take part, both over the phone and during an appointment at a MAC clinic. This will include you receiving the full patient information sheet (PIS).
Reimbursement: Transport will be provided, or reasonable travel expenses reimbursed
Criteria
Key Inclusion Criteria:
Diagnosis of mild Alzheimer's or probable Alzheimer's
Aged 60 – 85
Willing to attend study visits
Must have a friend or relative to be a study partner
Key Exclusion Criteria:
Evidence that the primary basis for cognitive impairment is a disease other than Alzheimer's disease, including, but not limited to, cerebrovascular dementia, dementia with Lewy bodies, and Parkinson's disease
History of a stroke
History of a heart attack in the last year
Other eligibility criteria will apply. Please contact MAC for more information.
Eligible patients will receive a comprehensive health screen and study participation will be in collaboration with the patient's treating physician.
If you would like more information, please fill in the form below and we will be in touch…
Alternatively, please call our recruitment team on freephone 0800 633 5507.
Know someone who may be interested in taking part? Share this page here: